Salads/Veggies
Use all organic ingredients as well as raw dairy ingredients when possible.
Asparagus with Balsamic Browned Butter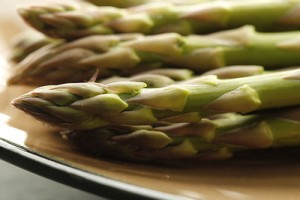 2 lbs asparagus, trimmed
2 Tb pastured butter
2 tsp organic GF soy sauce or coconut aminos
1 tsp balsamic vinegar
Salt and pepper
Preheat oven 400⁰.
Coat baking sheet with melted coconut oil or ghee.  Spread asparagus in a single layer, roll asparagus to coat lightly with oil.  Sprinkle with salt and pepper.  Roast 10-15 minutes until tender.
While asparagus is cooking, melt butter in a small pan over medium heat until lightly browned, 2-3 minutes.  Watch closely not to over brown.  Remove from heat.  Stir in soy sauce and vinegar.
Arrange cooked asparagus on a serving platter. Drizzle with browned butter mixture, coating well.
Sautéed Cabbage & Peas
3 Tb coconut oil, butter or ghee
1 small – medium cabbage, cored and chopped
1 large onion, chopped
1 c peas, frozen or fresh
1 tsp Himalayan or Celtic sea salt
½ tsp pepper
½ tsp onion powder
½ tsp garlic powder
1 tsp curry powder (opt)
½ tsp red pepper flakes (opt)
Heat oil in a skillet, add onions – cook 3 minutes. Add cabbage – cook 5 minutes.  Add peas and seasonings.  Cook until the cabbage is tender and slightly browning.  Add more salt if needed.
Grandma's Swiss Chard
1-2 Tb Coconut oil or ghee
Bunch of swiss chard, washed, stems removed and chopped, leaves cut into strips
1 large onion, sliced
3 garlic cloves, chopped
1-2 Tb extra virgin olive oil
Salt & pepper
1 tsp dried basil or 1 Tb fresh basil
Heat coconut oil or ghee in a skillet over medium heat.  Add onion – cook for 2 minutes.  Add chopped stems – cook 2 minutes.  Lower heat slightly.  Add leaves, garlic, salt, pepper and basil – cook 5-10 minutes until desired tenderness.  Stir frequently. Remove from heat. Drizzle with EVOO – extra virgin olive oil.  Mix well, add more salt if necessary.